(Readers NB - this thread is curremtly at a 'work in progress' stage and I'll be adding to it as time with other duties permits)
I thought I start a thread on reticulation. One dictionary definition is "to form a network". In gardening terms, I guess this has come to mean basically a water distribution system. In other words, when we 'reticulate' our garden, we commonly understand that we design and instal some form of water distribution system. This can be as simple or complex as you like. From a feeder hose attached to a tap via an inline timer - right through to a mains or even (bore/dam) pump driven.
I've designed and installed two reticulation systems now, both off the mains. I'll freely admit, this hardly makes me an expert, but hopefully, some of what I have learned will assist others that haven't undertaken reticulation and, better still, it may encourage some real experts to contribute to this thread or members that have better/alternative ideas and/or incites.
Here's an image of my current reticulation plan so far, with the wiring schematic included. It includes 31 wires all up - 4 x 7 core plus 3 sperate 5mm wires:
Here's a couple of "zoom-ins" to show you details: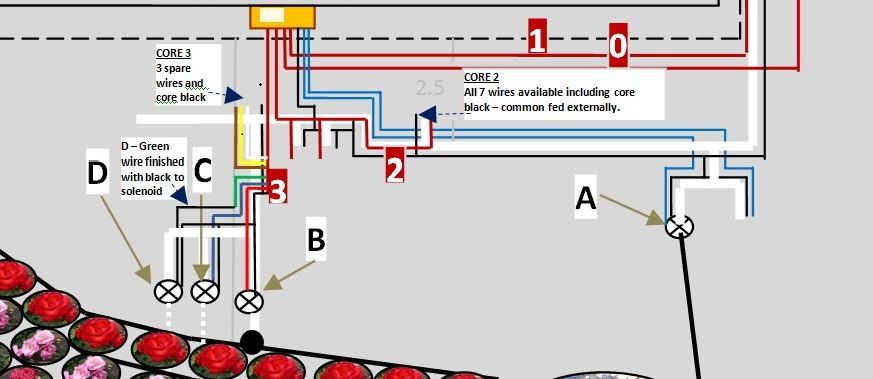 and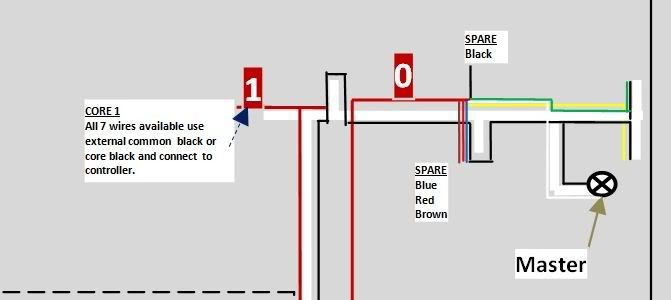 OK, on the assumption you are going to reticulate from the mains, where do you go from there?
I'll assume you haven't undertaken any reticulation before.
So; let us start by explaining the components of the 'water delivery system':


PIPE - This is the conduit that will carry the water. This can be made of two materials - PVC (or Polyvinyl chloride) is basically a hard plastic pipe and usually (at least for retic purposes) comes in white, the second one is polypipe, a softer more 'bendy' pipe. Both come in various diameters.


PIPE USE - PVC is usually used to start your retic off (don't worry, I'll explain that more shortly), carry the water where the area is subject to high traffic or where the water delivery system needs to be very robust. Polypipe tends to be used in garden beds or 'risers' (yes; that will be explained also).


PIPE DIAMETER - So what size pipe do I use. Well, basically you need to start off large and go down from there. There are ALL sorts of reasons for that. Without wanting to scare or dishearten you, it's all about the amount of water you want to deliver - volume vs length (and that's about water resistance, or, to be more accurate, the resistance on the water cused by friction against the inner walls of the pipe) and what amount of water you want to deliver at the 'sprinker' end. Usually, you start with 25mm PVC from the boundary service, master solenoid, then down to 20mm from the station solenoid and then (if required) polypipe out from the station solenoid or from the 20mm PVC past the station solenoid.


OK; let me explain those previous terms.



BOUNDARY SERVICE - this is the collective term for where your water meter is. It consists of the pipe running into your property from the water main, the junction where it connects to the water meter (the inlet union), the water meter itself, the junction where the pipe runs to your house (the outlet union) and then the pipe running to your house that supplies tap outlets etc. These pipes are collectively and commonly known as your 'internal service'.


MASTER AND STATION SOLENOID - A SOLENOID is an electrically controlled valve that controls the flow of water. The valve is is opened and shut at a set time and day for a desired duration and it is this action, together with the (Reticulation) CONTROLLER that determins water delivery onto specific areas of your garden. The MASTER SOLENOID is installed on your reticulation boundary service. This valve opens and shuts every time a STATION SOLENOID is turned on and off and control water delivery to the STATION SOLENOID that is activated by the CONTROLLER program.

A Picture of a Reticulation Boundary Service - showing the branch from the interal service, gate valve, master solenoid, and main 25mm PVC reticulation feed pipe:



The STATION SOLENOID controls water supply and delivery to the respective garden bed by allowing water (delivered by the opening of the MASTER SOLENOID) to pass through that STATION SOLENOID.

Here is a picture of three station solenoids, showing wiring, the solenoid and attached reticulation fittings:



Each SOLENOID, be it a MASTER SOLENOID or STATION SOLENOID consists of the the following:





(

TO BE CONTINUED

).




RETICULATION CONTROLLER - Often just referred to as the CONTROLLER is the unit that controlls when (days and start times) and for how long (station run time duation) the MASTER SOLENOID and STATION SOLENOID opens and shuts and thereby supplies water to a predermined section of your garden.





[*] (
TO BE CONTINUED
).