For over 18 months I have been trying to identify this bonsai, which I bought from a neighbour when she moved out - she didn't know what it was, and I'd never seen one like it before. I had it for over a year and it just wouldn't grow and looked half dead. Repotted in Sept and put it in a spot with good direct morning sun and it's growing like crazy now!!
Sept 07: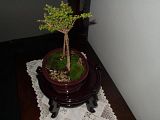 Last weekend -
AFTER
a good pruning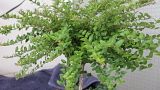 I was trawling the net today and found a great website which has bonsai progression photos and articles. Came across this entry and thought, "this looks a little like the leaves on my tree":
http://www.bonsai4me.com/AdvTech/ATlonicera.htm
Now, armed with a possible name, did a google search for Lonicera nitida...........and found this website (click on the pic to enlarge it):
http://www.eplantsdirect.com.au/index.php?main_page=product_info&products_id=19
DEAD MATCH!!!! I now know it's a Loncerna nitida - Box leaf honeysuckle. Knowing what you have makes a difference as you can find out what it likes and doesn't like from a care perspective. Wasn't able to find many pics of this tree in bonsai form, so it may not be that great for bonsai. I really love it though, with its 3 little trunks - it looks like a miniature forest - now, to try to "fatten up" the trunks!!!
And to think I was just seconds away from throwing it out!!
Only one more unknown to go........................
Cheers
Leah