..........so apologies in advance.
If you can't be bothered reading my long winded account, just have a look at the pretty pics!
Went to my 1st proper meeting at Bonsai NorthWest Inc last night. Where to begin...........
The display table. These are member's trees which they bring along for display:
Some variety of pine: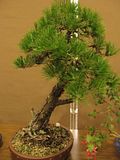 Huge fuchsia
Apple tree - the apples were gorgeous, so tiny (including close up of base)!!!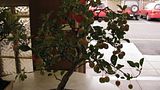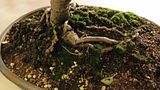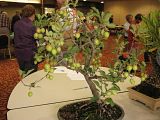 Enormous banksia (including base and cone):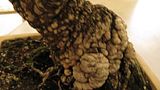 Juniper - this was HUGE and so green, but the pic didn't come out too well (was so excited, think I must have been shaking!!!!
)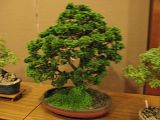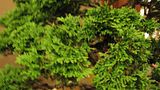 One of the highlights of the night was meeting Ted Poynton - he's a bit of a Melbourne bonsai legend. I got him to pose next to his tree which is over 50 years old. He told me the name, but can't remember it
, but it was a miniaturised version of that glossy leaved bush that you see in just about every Aussie garden (we used to use the leaves for whistles when I was a kid). Gorgeous berries were all over it!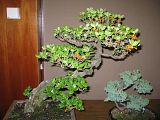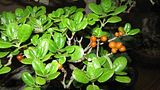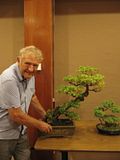 It was a workshop night, so people bought their trees in for work and to get advice. There were "ask me" people who provide advice and assistance & I managed to nab a lovely man called Steve who sat with me for over an hour and gave excellent information. Took 4 trees - satsuki azalea, zelkova, box leaf honeysuckle and olive. Steve is an olive expert, so most of our conversation revolved around what to do with the olive. As suggested by Taffy, I took a note book to record all the information, and really glad I did
. So this is what I learned
Olive
Here's what the olive looked like before last night: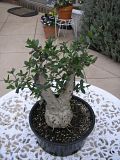 The advice was:
It needs more water (although the best ones come from the arid parts of SA, when potted, they need more water), and fertiliser. The aim of bonsai is to have a thick base and a tapered top (didn't know this
), so as this tree has 2 "arms", 1 straight, and 1 tapered, the straight one has to be cut off!!! This can be done by chiselling to get an aged look, and done in August. The remaining arm is to be cut back also, and each smaller branch cut back to 2 leaves. Remove all the branches that grow upwards (as it's a stiff wood tree, it's hard to wire downwards once they have established growing upwards), and wire other branches downwards.
Here's how it looks today after its hair cut. You can see the places where it's to be cut, by the black pen marks: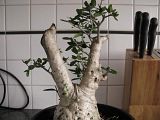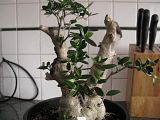 Zelkova
Bought this in December, and didn't realise this tree needed a lot of water. It started to die, so had to prune it severely. It's been growing out of control ever since. Steve identified which aspect should be the front. I have to cut the top off and replant it into a shallow broad pot in June once all the foliage has died off. The red line indicates where it should be cut. The wound on the main trunk had been severely cut before I bought it, and has scared quite badly, so this will be removed. This tree will therefore be greatly reduced in height, and the lower branches will be wired. This will make it grow outwards, and create a tapered shape.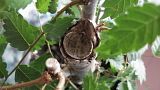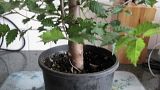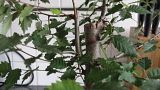 Honeysuckle and Azalea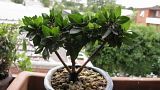 The reason I took these 2 along was because the trunks are so skinny and will not thicken. Steve said both are very healthy, but the trunks won't thicken whilst they are in bonsai pots. I can re-pot them in August into shallow broad pots. The honeysuckle is effectively a weed, so to leave the lower, new growing branches, to give it more character whilst the trunk is thickening and prune the top.
Other things I learned:
As a general rule, deciduous trees should have sealant applied to wounds after cutting, but junipers and other non deciduous generally don't require sealing.
The cones should be removed from the radiata pine as they take too much out of the tree
. As this tree weeps very badly and for a long period of time after any sort of pruning, sealant should be applied. My attempt at grafting will most likely not work, as Steve has been trying to do it for years with radiata's without success. Even though the grafted part looks green, they can stay this way for a long time, but are in fact dying
The Japanese will drill holes through the trunks of maples, zlekova's and elms during winter, thread a branch through the hole, and seal it. This creates new, lower branches in the spring. I said this was cheating (isn't bonsai all about patience and waiting for the tree to grow and age?). Steve said this isn't cheating, it's all part of the "art" of bonsai!!!!
The club has a huge bonsai library from which members can borrow. Didn't have time to check it out last night, but will do so next month and will be sure to borrow some.
So, it was a great night, and can't wait for the next meeting!!!