Happy New Bonsai Year to all those bonsai lovers on the forum!!!!
May your foliage pads be full and predator free and your trunks spontaneously bend themselves into desired shapes!
Need some advice please. I've never grown anything from seed before, so please be gentle
. Sowed some sacred & small leafed figs in October and they are well and truly on their way:
Sacred figs: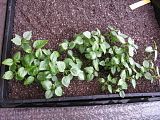 Small leafed figs: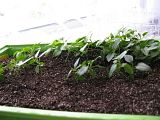 As the figs are getting bigger and bigger, and due to the addition of the ragdoll kittens to the home, the figs are now in desperate need of planting up before they become entrenched kitten chairs and get squashed to death under the kittens' ever increasing weight:
Sidney James Vicious: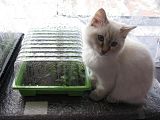 Johnny Kurt Rotten:
Lets play "use the hot house as a novelty toy":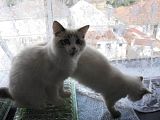 So what should I do with these figlets? They've spent their whole life indoors in the little propagation hot houses, so I was thinking of potting them up into little seedling pots and putting them into another hothouse: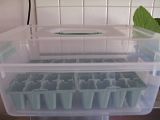 Does this sound like the right thing to do? Also, there are heaps of each figlet. If I planted 2 figs in each of the seedling pots, would this be ok (from the perspective of them joining up and making bigger trees in the long term) or should I only pot one in each pot?
Thanks for your advice in advance!
Cheers
Leah