Hi all
I work in Footscray in the western suburbs of Melbourne, where there are a collection of what can only be described as "eclectic" shops!
A couple of weeks ago I was on my way to the bank, and saw these huge bonsai's out the front of a handbag store (where else would you find giant bonsais!). They were tied up and for sale. I went inside and amongst the jewelery, hand bags, wallets and purses for sale, they also had a few bonsai pots, so of course I had to buy one!
The shop is owned by an elderly Vietnamese couple (hence the enormous bonsai's out the front), and I asked the owner if he had any plant stock for sale (didn't want any of the big bonsai potted ones). Went back this week and he had brought in about 8 plants for me to choose from.
Below are the plants I bought. Got them both for $40, which I think it pretty good, as they are very well established. The owner didn't know what they were, but I'm pretty certain that this is a Japanese Maple.
This one I'm pretty sure is a ginkgo biloba. It is in beautiful condition - the leaves are really lush!!!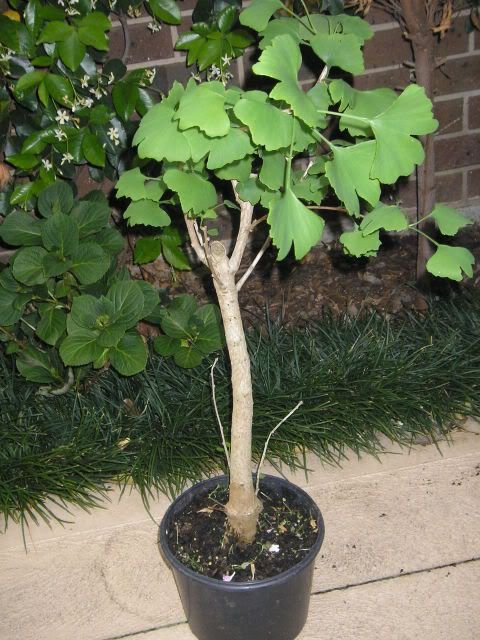 Can anyone confirm that I have identified them correctly? The Japanese Maple needs a good prune and I'm going to re-pot it into a styrene fruit crate. I'm going to try Taffy's trick and dunk it in epsom salts before I replant it in the crate. I have absolutely no idea what to do with the ginkgo (if that is what it is). Again, I was thinking of pulling it up, not touching the roots, give it an epsom dunk, and re-pot it in a crate, so the roots can spread out. I'm not sure if I should prune the branches though. They are both living at my parent's place as I have no room and because they have roses there (which get aphids) and other plants around, I'm fearful that the ginkgo will get some pesty infestation. Any suggestions as to whether I should pray it prophylatically with a pesticide? I've never used pesticides before so would welcome suggestions as to which one would be the best for generic purposes?
Thank you
Cheers
Leah
PS Taffy - haven't done the air layering of my parent's Manchurian pear yet - last weekend it was blowing a gale, and today it's pouring. I've got all the tools ready and will post some pics when its done! Along with these little champs re-potted.