Hi all
I bought a serissa in about November last year. It was huge, and I cut it back and pruned the roots. It's doing just ok, lots of little dead leaves which I pick off.
This is what it looks like now:
There are 2 issues with this tree. First, don't like the shape (which is my fault for the way I pruned it at the start). Any suggestions as to what I can do to make it look more pleasing? It really has me stumped - just can't think which style it lends itself to.
The other question I have is in relation to what I believe may be "suckers" growing from it? The tree has tiny, delicate leaves and flowers, but there are these much bigger, juicy stemmed growths coming out of the top: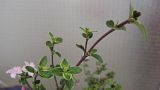 Should these be cut off? They are the only part of the tree currently producing flowers.
Also, most of my plants / trees have like a "rust" around the roots, or on the trunk or the rim of the pot. Is this just rust from the old water pipes at my place? It does give a more aged appearance, but concerned that it may be damaging my plants.
Cheers & thanks
Leah