Here's a blast from the not-too-distant past...
Our 2005 Driveway Border: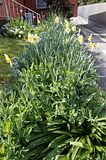 While it was an absolute bonus to find that our new house had mass plantings of bluebells and daffodils, they had been left there for so many years that flower production went waaaay down, just in the short time between 2003, when we moved in, and 2005. Since then, I've spread around and given away (possibly) hundreds of daffs and bluebells and totally changed that border so there's a bit of colour and interest most of the year. Well... more than before, to my mind...