I was hoping I'd get this finished in time to enter the comp!
(click the pics for bigger versions)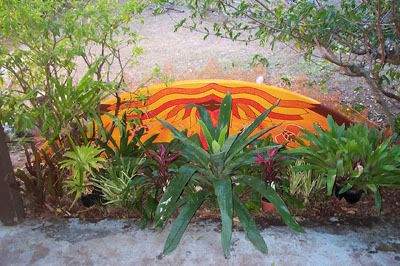 It started out as a plain white bedhead (scored on ebay for 50c!) and because it was the shape of a sun rising over the horizon, I wanted to paint it with something sun inspired, so googled for sun gods/goddesses and ended up reading about the aboriginal sun goddess, Yhi.
Her story
tells of how she woke up all the plants and animals back when the world was still in darkness.
So, the design I came up with has Yhi in the centre, (with some crazy, flame coloured hair), with her arms stretching out either side, with representatives from the different animal groups, (fish, lizard, possum, bird and ants), and you can kinda see in the second pic that there are tree branches in flower reaching up from the bottom corners.
Finished it off with a construction of wire mesh along the top to act as the sun's rays and there you have it!
I've actually got another old bedhead that I've painted up (different design) which I'm gonna use as a shade cover for another gardenbed. Gotta stick some legs on it though. And I just got 2 more bedheads, (more ebay buys) today, which will eventually stand at either end of
another
gardenbed, but I have no idea how I'm gonna paint those ones yet.
Anyway, moral of the story, if you've got an old bedhead lying around, make it pretty and turn it into a garden feature!