Pollen Collection and Storage
1. Collecting Pollen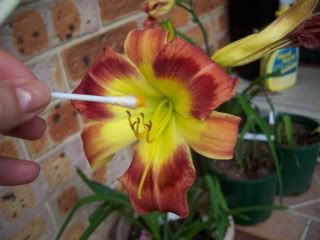 Remove one end of a cotton wool bud and tease the other end
Collect the pollen onto the cotton wool bud
Fertilize the stigma
2. Protecting the Stigma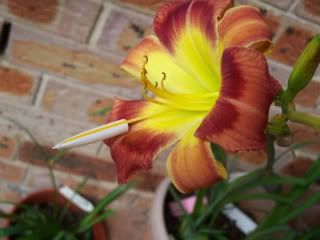 To prevent contamination the pollinated stigma is covered with either foil or straw cap as seen above.
The straw cap is made from a drinking straw cut into pieces and heated at one end with a lighter and pressed together.
3. Drying of Pollen
Allow the collected pollen to dry by standing the cotton wool buds
upside down until dry.
4. Storage of Pollen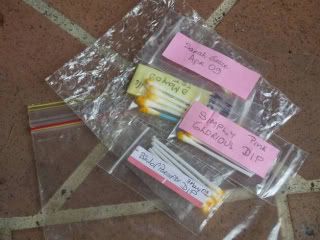 Place dry pollen into a small marked clip lock bag.
Information on the bag should include variety, ploidy, habit, colour and date.
The clip lock bags are placed into a bubble bag which goes into a larger clip lock bag and then placed into a freezer.
This procedure should extend the viability of pollen to be used next season.
Happy Gardening !!!