Hi All,
Over the last week or so, I've noticed an algae, which I believe to be Filamentous Agae, which I understand is also referred to as 'Long Stringy Algae' or 'Blanket Weed'. Here's a pic of the pond: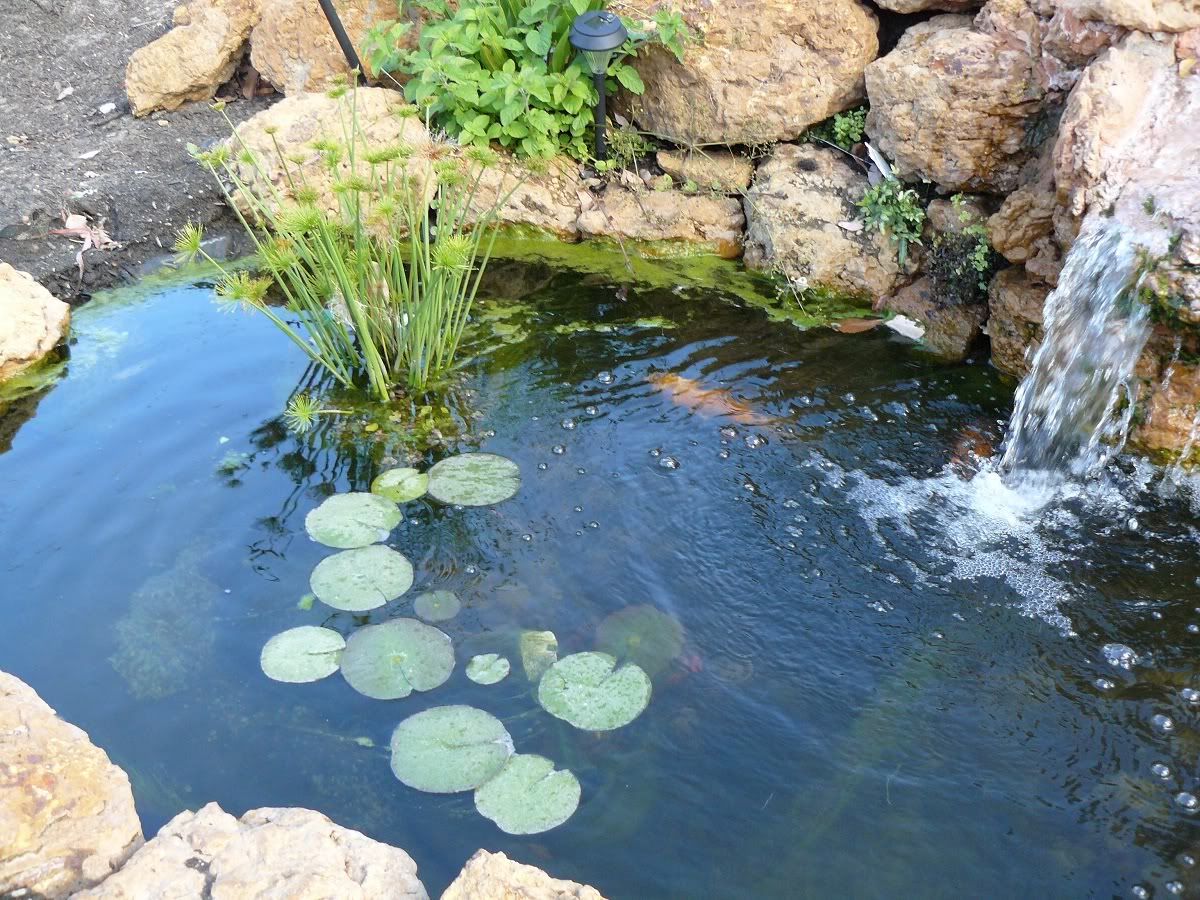 I discussed it with my local pond expert retic guy (onya Steve) and he suggested that the spores could have come from frogs, ducks or new introduced plants - non of which have occurred with our pond. After doing some research (
http://www.fishchannel.com/setups/ponds/filamentous-algae.aspx
) there are additional suggestions of spore introduction, including tap water (I have to top up my pond occassionally due to water loss from the waterfall) and wind. Also phosphate fertiliser run off (which I don't use).
The pond is very close to 1,000 litres in capacity and I have 2 large Koi, 3 small ones and 3 Small to medium Fantails. Plant wise, I have two growing water lillies and a large pot with miniture papyrus in it.
I have a 8,000 lph filter and a 3,000 lph pump (I chanel 3,000 lph to the filter to the top pond and 5,000 lph to the top pond direct).
Some sights have recommended adding salt to the pond as this is best for this fish (
http://www.pondkoi.com/algae_1b.htm
).
From talking to Steve, and browsing a few web sites, it would appear the best method of getting rid of it is manual cleaning followed by a n on harmful "Long String Algae Killer" which Steve advises me will suffocate the remaining algae and not harm the fish or my bio filter. Obviously the (external) filter UV light cell doesn't remove it because the spores stick together and then to anything no moviong in the pond. So the spore strands are anchored.
It would seem the increased sunlight of summer, combined with warming of the water, especially closer to the surface is contricuting to the problem. I've been planning to put a shade (cloth) over my pond anyway, so I can grow ferns around the pond and incorportate 2 benches. Is this a good idea?
Thoughts, ideas, suggests?